When deciding on a new roof or an upgrade for your current one, one of the most important things to consider is: what type of roof are you searching for? While shingles and tiles are popular and often considered cost-effective options, have you considered a new metal roof?
Hear us out! We understand that most people, when they think about metal roofs, probably cringe. This cringe is likely due to archaic ideas of metal roofs, including old farm houses with poorly-constructed metal roofs. However, at Pioneer Metals, we have fully embraced the 21st century and provide our customers with the highest quality metal roofs available in a wide variety of colors to suit every home in any neighborhood.
Selecting a Color for Your New Metal Roof
As you're searching for your new metal roof, one of the top considerations is likely the color. After all, you need a color that is going to match the siding and trim options. At Pioneer Metals, we offer a wide variety of paint colors, which are suitable for any home. Our paint selections include both standard and premium colors.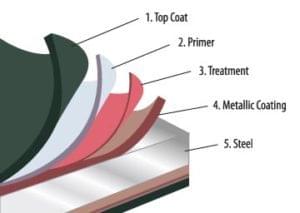 Our metal roofs work great with many different architectural styles found throughout the Southeast, including:
Classical

Ranch

Modern

Manufactured
Warranty Options for Pioneer Metal Roofs
At Pioneer Metals, we understand the importance of a well-maintained metal roof. Our metal roofs are treated with several coating layers before the paint to ensure the long-lasting strength and durability of the metal, as well as long-lasting brilliant color.
We offer several warranties to ensure the brilliance of our metal roofs. Our standard selection of paint is available with both a 10-year and 40-year warranty, while our premium paint is available with a 40-year warranty. These industry-leading warranties ensure that our customers are happy with their new metal roof for years to come – did we mention that a well-maintained metal roof can last for a half a century?!
Contact Pioneer Metals to Purchase a New Metal Roof
Are you ready to purchase a new metal roof for your new home project? Whether you're constructing a brand new home or simply updating your existing one, a metal roof is going to provide long-lasting benefits without the excess stress that shingles or tiles bring.
We construct our high-quality metal roofs at our Jackson, Georgia headquarters, and work with Dealers throughout the entire Southeast. Contact our team online [link] or via telephone at 770-504-8688 to get started.