If you are looking for a long-term roofing solution for your home or commercial structure, it's essential to choose a roofing material that is durable and long-lasting. A new roof represents a significant investment in your property. Make sure this capital improvement is one that looks beautiful and complements your property in every way with our metal roofing options.
Metal Roofing Offers Property And Homeowners Flexibility
These days, property owners have nearly unlimited choices available when selecting roofing materials. People no longer have to settle for unattractive and dull asphalt shingle roofing in drab colors.
Metal roofs are made of durable steel which gets treated with a metallic coating, metal treatment, primer, and a topcoat, so it's fabricated to meet strict manufacturing requirements. Available in multiple colors, it's ideal for use in commercial roofing and residential roofing applications.
If you have always wanted a home or commercial property with a colorful roof, you can make your dream become a reality. Homeowners have the flexibility to decide which metal roof solution is best for their home and surroundings. They can choose a roofing color that blends in with nature or stands out among their surroundings. If you prefer to stick to a more traditional roofing color, black is always an option to consider.
Why Choose A Metal Roof?
If you are evaluating reasons why to choose a metal roof, many arguments favor metal roofs over traditional, asphalt roofs. The most significant reason to choose a metal roof is the longevity it offers. A metal roof can last years longer than most other roofing systems – up to 50 years!
Extended Warranties
Extended warranties protect your new roofing system for as long as ten to forty years, so you can worry less about having to make expensive repairs. With weather-resistant sealant coatings, metal roofs safeguard your home from heat, precipitation, wind, and UV rays.
Easy Maintenance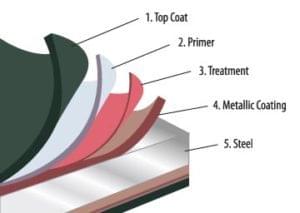 Another advantage of a metal roof system is they offer easy maintenance. As you can imagine, having thousands of roofing shingles that can be a single point of failure, the more chances for leaks or damages. If the leak isn't detected right away, it could cause more significant damage to the structure over time. Metal roofs use fewer materials to cover the same area in a streamlined fashion. Since there are fewer breaks between the components, there are fewer points for leaks to occur.
Like all roofing systems, metal roofs should be inspected regularly for optimal results. Debris such as fallen leaves, tree branches, and other items should be removed to sustain a pristine look to the property. If you notice damage from the elements such as hail, the buildup of mold, mildew, or algae, take steps to make needed repairs and maintenance as soon as possible.
In flat roofs, foreign materials could pose a safety threat, so regular removal helps maintain the integrity of the roof. To safely and thoroughly clean these areas, power washing offers an affordable solution. Power washing is effective at removing algae and other materials that detract from the beauty of your roofing system.
Energy Efficiency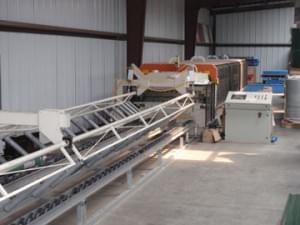 Additionally, metal roof systems help control energy costs. The metal roof system has a combination of reflective and absorbent material to safeguard against the sun's rays.
In the warmer months, a metal roof deflects the heat of the sun away from the property with reflective material, and harmful UV rays get blocked.
In the colder months, as much as 25% of heat escapes through the roof. For property owners, this substantial loss of heating often represents itself as an outsized energy bill. Insulated metal roof systems offer excellent protection and reduce the amount of energy that escapes from the ceilings and roofs.
During all seasons of the year, metal roof systems help to stabilize energy expenses.
When you calculate the savings on overall energy costs, the decision to invest in a metal roof system is financially sound.
Tax Credits
For homeowners, an Energy Star qualified residential metal roof offers tax benefits. Installation on an existing home qualifies for a 10% tax credit or up to $500 in material cost. Labor and installation expenses aren't eligible for credit.
For savvy homeowners, this offers a financial incentive for making necessary upgrades to their existing home.
If you are looking for the best improvement you can make to your property; a new metal roof system is worth considering. It offers many benefits to your home and your surroundings.
Pioneer Metals – Jackson, Georgia's Metal Roof Specialists
Pioneer Metals is proud to serve the Jackson, Georgia area with durable metal roof solutions for their residential or commercial needs. We offer extraordinary service with a 48-hour turnaround time in most cases.
Our team of metal roofing specialists are standing by to customize your metal roofing solutions to fit your project. Contact us today online or by phone (770-504-8688) to discuss your metal roof project needs.