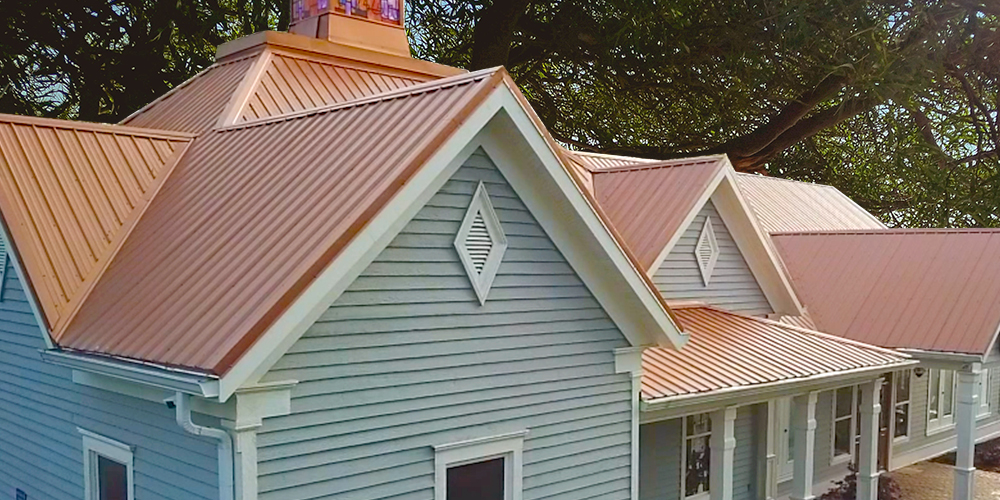 At Pioneer Metals, we're proud to be the leading metal roofing distributor in the Jackson, Griffin, Monticello, Butts County and Jasper County area. We partner with builders, engineers, and contractors to provide reliable and durable metal roofs for business and residential customers.
We utilize state-of-the-art technology to provide a remarkable standard 48-hour turnaround time, which makes us among the fastest in the industry. Because we infused pride and superior craftsmanship in everything we do, we stand behind our work with a 40 year paint system that is Energy Star certified.
What Does the 40 Year Limited Warranty Cover?
At Pioneer Metals, we add an extra durable WeatherX Siliconized Polyester coil paintings to our Zinc-Aluminum Alloy Steel and to HDG steel (G90+). Because of this additional protectant, we proudly stand behind our sidewall panels and roofing panels with an industry-leading 40 year warranty. Both the sidewall panels and roofing panels are covered from chalking as well as color changes within a defined range. View the full warranty for all terms and conditions.
How to File a Warranty Complaint?
In the event of a complaint, you will need to provide the original receipt and allow access to the panels, so we can determine the actual cause of the failure. In most instances, NCCA and ASTM testing protocol will be utilized. You must notify us within 30 days of discovering the failure and provide the following documentation at a minimum:
The original receipt
Date of the installation
Who installed the product
What Happens If the Panels Fail?
In the event our WeatherX Siliconized Polyester Family of coatings fail to meet the terms of the warranty, we will pay the costs associated with repairing, repainting, or replacing the part of the structure showing signs of failure. The warranty doesn't provide coverage for:
Claims of personal injury or property damage
Consequential or incidental damages, including the lost use of material or lost profits
What Does the Warranty Not Cover?
Although the limited warranty covers a range of situations, it doesn't cover damage caused by:
Installations or storage that caused poor circulation
Explosions, acts of God, fire, falling objects, or other circumstances not under the manufacturer's control
Foreign substrates or unusual harmful fumes in standing water, the atmosphere or salt spray.
Installed or stored in a manner that allows for contact with animal waste or animals
Products that have been mishandled, abused, modified, altered, or used in a manner not originally intended.
Most importantly, the warranty only applies to metals that the WeatherX Siliconized Polyester is applied to.
Contact Pioneer Metals Today
If you're in the market for new roof materials in Jackson, surrounding areas, or anywhere else in the Southeastern United States; Pioneer Metal's will meet your needs and exceed your expectations. Our metal roofs are engineered with the state-of-the-art Weather X Siliconized Polyester Coil Coating System and comes backed by our industry-leading 40-year warranty.
Get a quote from the best Georgia metal roofing company at Pioneer Metals to learn how affordable the best solution can be. Contact Pioneer Metals today by calling (770) 504-8688.