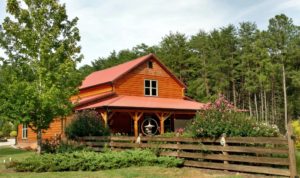 Metal roofing is a durable and cost-effective roofing solution for residential homes throughout the Jackson Georgia area. Weather-resistant, a properly installed metal roof is a practical solution for protecting residential homes for decades to come. Another clear benefit of this roofing type is better energy-efficiency throughout the structure.
As your trusted vendor for residential metal roof supplies, you can count on Pioneer Metals to provide high-quality materials for all your roofing needs.
Our residential roofing panels are easy to install and built to last. Economical and attractive, we offer roofing solutions for a broad range of applications. Available in multiple colors and acrylic coated Galvalume steel, our roofing panels offer 36″ Net Coverage and are available in29 and 26 Gauge thicknesses.
Call Or Click To Speak With A Pioneer Metal Representative
Why Choose Our Metal Roof Supplier Company
Pioneer Metals provides high-quality residential roofing materials at competitive prices to contractors, subcontractors, and real estate developers who work in the residential and commercial sector.
To accommodate the needs of our valued customers, we offer 24-48 hour pickup on roofing materials. We offer the fastest order turnaround times in the industry and the state of Georgia.
Our paint system protects this investment for up to 40-years! Pioneer Metals is Energy Star Certified so all of our metal materials are 100% recyclable.
Metal Roofing Re-imagined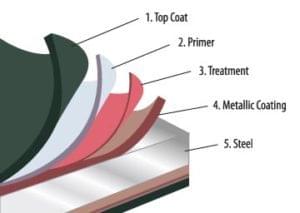 There is no reason to settle for the ordinary when you can get the 'wow' factor with gorgeous, durable metal roofing. Pioneer Metals offers a comprehensive selection of residential metal roof supplies in multiple colors and extended warranty periods.
Metal Roofing Panels with 10 or 40 year warranty periods include the following colors:
Rustic Red – Deep and warm

Cocoa Brown – Rich and welcoming

Bright White – Radiant and luminous

Saddle Tan – Neutral and complimentary

Light Gray – Subdued and mellow

Ivory – Vibrant and eye-catching

Ivy Green – Vivid and colorful

Charcoal – Low key and subtle

Hawaiian Blue – Vivid and vivacious

Taupe – Understated and classy

Black – Simple and sophisticated

Berry – Distinctive and splashy
Metal Roofing Panels with a 40 year warranty period include:
Light Stone – Graceful and elegant

Buckskin – Natural and charming

Burnished Slate – Buff and beautiful

Copper Penny – Shiny and bronze

Dark Red – Crimson and captivating

Gallery Blue – Royal and appealing

Evergreen – Luxurious and deep

Galvalume – Industrial and modern (20-year warranty)
Metal Roofing Increases Home Values
When weighing the long term benefits of a new or replacement roof, metal roofing should not be ruled out. Especially if you have plans to sell the property at some undetermined time in the future or you're marketing a new property. Choosing a metal roofing system for new residential construction or replacement roofing could increase the value of the home by as much as 6%.
Today's modern home buyers are seeking turnkey properties that allow them to move in right away, without having to worry about putting a new roof on the house.
Although we don't currently provide installation, we are always happy to connect homeowners with local contractors and home builders who are trusted and use reliable metal roof supplies.
Call Or Click To Speak With A Pioneer Metal Representative
Metal Roofing Increases Efficiency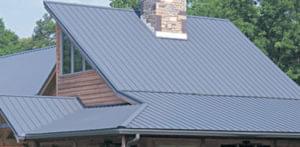 Metal roofing offers higher energy efficiency than standard, traditional roofing systems. In daylight hours, the roof bears the brunt of the sun's heat on its surface. Cool metal roofing helps to reflect the heat away from the structure, instead of absorbing this heat into the home or building. The result is lower heating and cooling costs, which is always worth the investment.
According to studies, metal roofing can save homeowners up to 20% on their energy costs. As a result, homeowners who have a quality metal roof installed on the homes have a lower carbon footprint than homeowners who don't.
The Energy Star certified residential metal roof supplies offered by Pioneer Metals meet all codes and standards, assuring the highest level of efficiency.
Jackson, Georgia Residential Metal Roofing Systems
If your customers demand a permanent solution that increases energy efficiency and reduces maintenance requirements and costs, metal roofing systems provided by Pioneer Metals offer the best solution.
Our products are durable and resistant to all weather conditions, including everyday exposure to the elements including the sun, rain, wind, and other weather anomalies such as hail. Further, installation is straightforward and simple. Depending on the scope and specifics of the building project, a skilled crew of roofers can complete the installation in only a few days.
We're always happy to work with new customers throughout the Jackson, Georgia area.