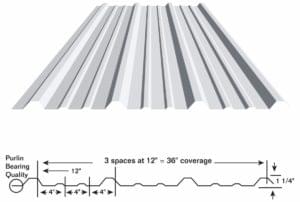 Metal roofing is an attractive and economical roofing solution for commercial properties of all sizes and types in Georgia. The metal roofing panels offered by Pioneer Metals are resilient and durable to withstand all weather conditions. They can be used in a wide range of industrial, agricultural, and commercial operational configurations.
As a reliable vendor of commercial metal roof supplies, our company goes the extra mile to assure that the needs of our business customers are consistently met. Our team of metal roofing specialists work quickly and professionally to fulfill orders for commercial clients. Generally, orders are available for pickup within 24-48 hours.
Easy to install and built to last, our commercial metal roofing panels are economical and attractive. Our metal roofing solutions are ideal for retail stores, warehouses, manufacturing, storage, industrial, schools, mixed-use facilities, and agricultural buildings.
Contemporary And Stylish Metal Roofing
Just because you have a commercial building doesn't mean it has to be boring or run of the mill. Pioneer Metals, serving Jackson, Georgia, is a metal roof supplier who offers colorful and functional roofing materials. Commercial roofing panels are available in numerous colors. Our Galvalume steel panels are coated with acrylic as an industry standard application for added protection and style. Our roofing panels provide a 36″ net coverage and are available in 26 and 29 gauge thicknesses.
Why Select Pioneer Metals As Your Commercial Roof Supplier Company?
Pioneer Metals specializes in supplying superior commercial roofing materials to clients in Jackson, Georgia and the surrounding communities. We work with commercial developers, subcontractors, contractors, and building designer companies to provide roofing panels for their projects.
Our 24-48 hour pickup on roofing materials offers flexibility. Once you're ready to get to work on the roof, give us a few days' notice and we'll have it ready to go. We have the quickest turnaround time in the middle Georgia area.
Further, our extended warranty plans help keep you covered for – in some cases – decades to come! We are Energy Star Certified, and our metal roofing materials are entirely recyclable.
Call Or Click To Speak With A Pioneer Metal Representative
Eye Catching Roofing Systems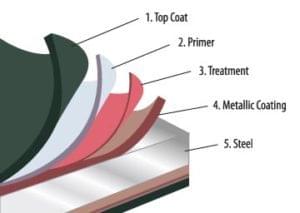 Why settle for an ordinary-looking commercial building when you can modernize it with an attractive and eye-catching roofing system? Pioneer Metals offers a comprehensive selection of gorgeous metal roofing colors, all feature an extended warranty.
Commercial Roofing Panels with 10 or 40 year warranty periods are available in the following colors:
Rustic Red – Warm and deep
Cocoa Brown – Welcoming and rich
Bright White – Luminous and radiant
Saddle Tan – Complementary and neutral
Light Gray – Mellow and subdued
Ivory – Eye-catching and vibrant
Ivy Green – Colorful and vivid
Charcoal – Subtle and low key
Hawaiian Blue – Vivacious and vivid
Taupe – Classy and understated
Black – Sophisticated and simple
Berry – Splashy and distinctive
Metal Roofing Panels with a 40 year warranty period include:
Light Stone – Elegant and graceful
Buckskin – Charming and natural
Burnished Slate – Beautiful and buff
Copper Penny – Bronze and shiny
Dark Red – Captivating and crimson
Gallery Blue – Appealing and royal
Evergreen – Luxurious and verdant
Galvalume – Modern and industrial (20-year warranty)
Metal Roofing Decreases Cooling Bills
When evaluating the long term benefits of a metal roof, one of the most significant benefits is energy efficiency. Adequately installed metal roofing reflects the sun, instead of absorbing it like traditional asphalt and other types of roofing materials.
During daylight hours, a cool commercial roof helps to regulate indoor temperatures more effectively. In buildings where temperature control is critical, such as food processing, food storage, dairy, pharmaceutical, and agricultural grow rooms, a metal roofing system can help to reduce cooling costs significantly.
The Energy Star certified commercial roofing metal panels offered by Pioneer Metals offer the highest level of efficiency while meeting all Energy Star rules and regulations.
Call Or Click To Speak With A Pioneer Metals Representative
Contact Pioneer Metals – A Commercial Metal Roof Supplier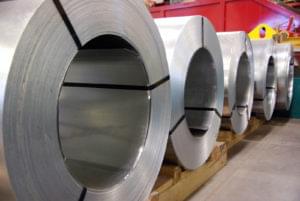 If you or your customer demand a high quality roofing system that offers increased levels of energy efficiency, while reducing costs and work associated with roofing maintenance, the commercial roofing systems sold by Pioneer Metals are customizable to meet your specific requirements.
Durable and weather-resistant, our commercial roof panels are robust enough to handle everyday exposure to all of the elements, not just the sun. Rain, hail, and wind are no match for the level of protection a commercial metal roof provides.
Simple and straightforward to install, your crew of skilled installers can complete commercial jobs quickly. Even better, our company can have your order ready for pick up in 24-48 hours, so your team can get to work promptly.
We're always welcome new clients throughout the Jackson, Georgia area.